Russell Rescue, Inc. (RRI) is a national network of volunteers dedicated to placing unwanted, displaced or abandoned Jack Russell Terriers into permanent homes. All dogs entering rescue are either temporarily placed in a foster home or must remain with their owners until a suitable home can be found. Foster space is limited so foster homes are generally reserved for dogs that are in danger of euthanasia at local shelters or are in an emergency situation. RRI gathers information designed to match terriers to the appropriate permanent home or temporary home. We are funded by tax-deductible donations, adoption and surrender fees and supported by dog lovers throughout the world.
Spotlight Terrier – Home for the Holidays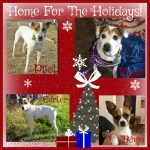 All these little JRT's are hoping to find a home this holiday season. Nothing would make them happier than to find their forever family! Amy, Frank, Bolt, Gigi, Pilot, Carter, Mazie, and Banjo are all available for adoption, plus many others. Read all about each one on the Available Terriers tab.
Read Their Story   (updated Dec 12)
What Russell Rescue Does
Protects the Jack Russell Terrier by educating pet owners and breeders to the special needs of this breed to prevent displaced terriers. By offering advice and support to owners who wish to keep their pets, assisting them as to prevent the surrender of their Jack Russell Terrier.
Provides for the temporary health and well being of Jack Russell Terriers given to the Russell Rescue, Inc by the owners who can no longer care for their dogs or Jack Russell Terriers housed in shelters, by offering temporary foster homes and/or referring educated adopters to the homeless Jack Russell Terriers in shelters.
Places Jack Russell Terriers in suitable homes where they can live as the breed they are meant to be.
Assists these terriers in finding homes where the quality of life will ensure a long safe healthy lifestyle for the terrier.
Releases terriers who through no fault of their own from the pain and suffering of their lives in the most humane way when necessary.
When unable to assist, RRI may be able to help refer you to other resources.
RRI Featured in PawPrints Magazine – June 2015
Russell Rescue (Benji) is featured on the cover of the June 2015 issue of PawPrints magazine. PawPrints Magazine is dedicated to saving the lives of homeless animals by promoting shelter adoptions. Check it out!  (Direct Link to June 2015 Issue)
Support Russell Rescue using AmazonSmile
AmazonSmile is a simple and automatic way for you to support your favorite charitable organization – like Russell Rescue, every time you shop, at no cost to you. When you shop at smile.amazon.com, you'll find the exact same low prices, vast selection and convenient shopping experience as Amazon.com, with the added bonus that Amazon will donate a portion of the purchase price to Russell Rescue. Read More About AmazonSmile.
Jack Russell Adoptions
Terriers in Rescue are in great need of proper JR homes and while they may need a little special handling, adopting a terrier in need can be much more rewarding than starting with a new puppy. If you are interested in adopting a Jack Russell Terrier through Russell Rescue, Inc., you MUST fill out an adoption application. No exceptions! A searchable list of available terriers in the US is online.
Funded By Donations
Our organization is funded entirely by donations. These donations are used for temporary housing, spaying/neutering, veterinarian treatments, food, water, etc. The goal of RRI is to have this unique hunting terrier be in the protective care of those who thoroughly understand this breed.
Volunteer your Time/Expertise
You can become a Russell Rescue, Inc. helper (transportation, shelter contact, behavior counseling, etc). To help with Rescue, please contact Russell Rescue or complete our volunteer application.
501(c)(3) Non-Profit Organization
Russell Rescue, Inc. has been approved as a non-profit 501(c)(3) corporation. All donations made to RRI are tax-deductible to the contributor.