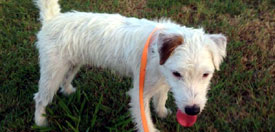 Rescue dogs must have containment (fence, kennel); JRTs are rarely suitable for city living.
We do not place terriers in homes where it must remain alone for extended periods of time.
We do not place dogs in homes where there are children under six years of age.
Few rescue dogs are good with cats.
Most terriers in Rescue are young adults; puppies are rarely, if ever, available.
Filling out an adoption application does not guarantee adoption. Jack Russell Terriers have special needs. Not all homes are suitable for placement.
All applicants are thoroughly screened and must meet certain qualifications before being referred for a terrier.
Compatible terriers may not be immediately available; your patience is appreciated.
Remember, the more conditions you make (i.e., color, coat type, age, sex and body type), the longer it will take to find a suitable terrier to match your environment.
By submitting this adoption application, you are making a formal request to adopt a dog from Russell Rescue, Inc. Please do not fill out this application if you are not serious about working with Russell Rescue, Inc.
If a terrier is matched to your application and placed in your home, you must agree to keep the terrier for at least 3 weeks (to allow time for the terrier and you to acclimate with each other).
We can only place terriers in homes located in the United States.