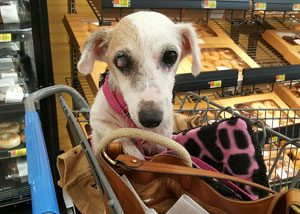 May 31
We got an update on Pearl this week from her foster mom, Robyn!  Read below to see how she is doing! We will update again soon!
"First:  I got to have a bath.  Aunt Foster used that smelly shampoo, but it feels real good to be brushed-scrubbed all over real gently in warm, soapy water.  Then we went to the vet, (I didn't like that! Blood tests, ow, ow, ow!!!) But THEN! Because I was so good, we went to WalMart and I got to ride in the basket and we got a treat and got some pets and rubs from real nice people.  We had a treat at the bakery section, YUM!! Whew, I am worn out! My main man, Dr. C. says I am doing well, but still have a long way to go."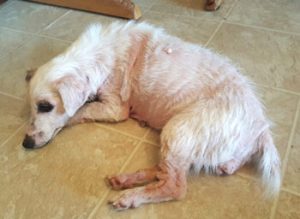 May 20
We got a couple new pics today from Pearl's foster mom, Robyn.  She says Pearl is doing very well. She has settled in and made herself right at home.  Pearl's skin is looking much better after 3 sulfur shampoos and one sulfur dip. Pearl has discovered that she can jump up on the bed and really enjoys rolling around in the soft blankets.
Here she is this morning after breakfast. All that eating and playing made her tired! Overall, she is doing much better. Pearl goes back to see Dr. C in another week for a follow up and to determine what needs to be done about her eye issues.  She also will need to be spayed and have a few moles removed. But, she is well on her way to recovery!
We will continue to keep you posted on Pearl's progress.