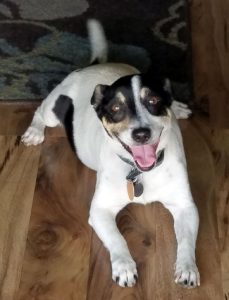 Update July 11 – We reached our goal and Sammie's surgery is scheduled for tomorrow! Thank you all so very much for donating. We couldn't do it without your support!
Sammie needs our help! He is a 9 year old bundle of love and kisses. The poor little guy has a tumor on his back right leg and another one on his back left leg. They need to come off because they could be dangerous. He's a healthy, happy little guy and in good health otherwise. We want him to be able to run and play for years to come! Won't you please help us help him?
The vet estimates that Sammie's surgery will cost about $600 and Sammie must have this surgery done before we can find his forever family.  Please help us help Sammie by giving! No amount is too small… it all adds up! You can donate with PayPal and all major credit cards. Please notate that your donation is for Sammie in the name field.
Russell Rescue, Inc. is a non-profit 501(c)(3) corporation.  Donations made to Russell Rescue, Inc. are tax-deductible to the contributor.  Follow along here for updates. Thank you from Sammie!