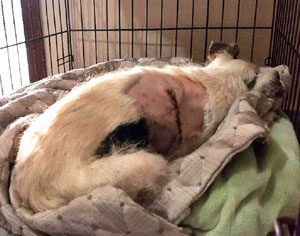 Russell Rescue Needs Your Help!
Update: April 19, 2019
Sweet little Bridget had her surgery on Wednesday the 17th and is home resting and recovering.  The doctor had to remove 6 teeth and also clean and scrape all the remaining teeth, then stitch up the holes.
Ouch! Bridget also had a lump on her shoulder that had to be removed. You can see her stitches in the photo.  Bridget had the best care in the world from Dr. Mark Schuman, Virginia, Miss Tracy, and Amber. They are a great team and we appreciate them so very much!
They took great care of our little girl! Bridget has had quite a bit of pain, but her foster mom is giving her good meds and lots of TLC. She is doing a lot of sleeping today.  Thank you to the donors who made this life-saving surgery possible. Bridget will now have a chance at a healthy and happy life.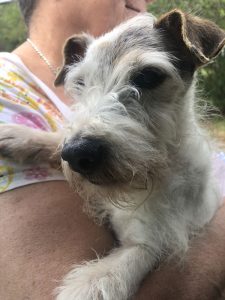 Update: April 15, 2019
We reached our goal for Bridget and her surgery is scheduled for Wednesday! Thank you all so very much for donating! We appreciate it very much! We will post updates this week.
Bridget
This precious little gal is Bridget, and she needs our help!  Bridget is a sweet little senior Jack Russell that has a mouth full of rotten and infected teeth.  As you can see from the photos, her teeth are in very bad condition.
Her back teeth are a greenish/blackish color, and the infection is poisoning her little body.  The vet says that most of her teeth will have to come out and that she will need stitches. Bridget's bad teeth are causing her pain and need to be fixed as soon as possible!
The vet estimates that the bill for Bridget's surgery will be around $700.  Bridget is a sweet little gal who deserves a chance at a healthy life.
Can you please help our girl get this life saving surgery by donating?  No amount is too small…it all adds up! You can donate at www.russellrescue.com with PayPal and all major credit cards.  Please notate that your donation is for Bridget in the name field.
Russell Rescue, Inc. is a non-profit 501(c)(3) corporation.  Donations made to Russell Rescue, Inc. are tax-deductible to the contributor.  Follow along here for updates. Thank you from Bridget!