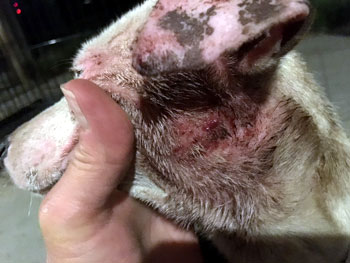 View the July 24 Fannie Update
View the July 13 Fannie Update
View the July 12 Fannie Update
This is the newest little Russell Rescue dog.  Her name is Fannie and she was found on June 19th, 2017 running around a convenience store in a very small town in south Texas.  As you can see she has been chewed to pieces by fleas and ticks.  The coat she has left is yellow and stiff.  She is in bad shape.  She is going to need several vet visits and good meds to get back to normal.
This petite baby only weighs 10 pounds.  She is a perfect Jack Russell Terrier though.   Her dew claws are removed and her tail and ears are perfect.  But she needs your help to recover.  Fannie will see the vet in the next several days for a full evaluation.  She will also be tested for heartworms at that time.  Then we will have a full picture of everything she will need in order to recover and be ready for adoption.
Can you help us pay for Fannie's medical care?  At this time, we anticipate that her vet bills will run around $400 unless she has heartworms and then it will be more.  Any amount you can spare is very much appreciated and it all adds up.  Thank you so much for your support!   Donate to help Fannie.