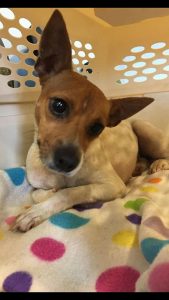 Sammie was hit by a car. She was found laying in the street. Her leg is broken. As you can see she is in a great deal of pain. She will need surgery to repair her leg. Can you find it in your heart to help her?
Sammie needs to raise funds to reset her pelvis. It appears she was hit by a car on Monday, and has a broken leg, and her pelvic bone has shifted. It will cost rescue roughly $3000+.  She is the "spotlight terrier" or you can donate to General Fund with memo as "Sammie in NC."
Sammie is heading home for the night, poor kid. Another 36 hours on pain medications, and then she can see the orthopedic surgeon. Fractured pelvis and severely broken leg. She's going to make it though! They said everyone loved on her all day! Guess someone goes to work with me tomorrow.
Help Sammie with her "good as new" surgery!