Alyse Updates
October 29 – Our sweet little Alyse has been adopted and is as happy as can be in her forever home! We appreciate our supporters so much. Alyse got the medical care she needed because of your donations and now she is finally home! Happy Tails Alyse!
June 15 –  We got this update today about Alyse and wanted to share with all of you.  Thank you all again for your donations to her vet bill. We are hoping she is ready to find her forever family soon!
Alyse had her dental today.  Our poor baby had 18 teeth pulled!  Plus, the vet noticed that she had a wax plug in one ear.  It was a quarter inch long and hard as a rock. It's out now!
Her foster mom, Ginger said, "Alyse is not a happy camper right now!  She will get plenty of TLC tonight."
Stay tuned for more updates.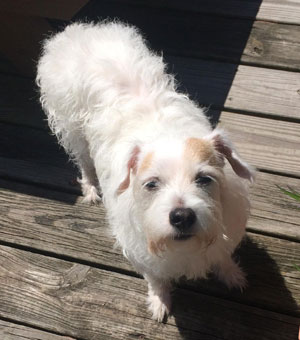 June 10 – We want to say thank you to everyone who donated to Alyse!  We reached our goal and Alyse is scheduled for her surgery on June 14th.  She will be one happy girl once those teeth are fixed.  We can't tell you how much your support means.  We couldn't do it without you!
Thank you from Alyse!  Stay tuned for more updates.
Alyse's Story
Alyse needs our help!  She looks perfect and adorable, right?  She is adorable, but what you can't see is her horribly rotten teeth.  They are so rotten, one of them just fell out in Robyn's hand! The vet snapped several photos that are posted here.  Her gums are filled with pus and the teeth are loose. The vet says there will be around 6 extractions.
Please help our sweet girl!  In order for Alyse to be ready to find her forever family, she must get her teeth fixed. Her little mouth is painful and the extractions need to be scheduled as soon as possible.  The 6 extractions will run about $600. Please help us help Alyse by giving. No amount is too small… it all adds up! Please notate that your donation is for Alyse in the name field.  Follow along here for updates.
Thank you from Alyse!