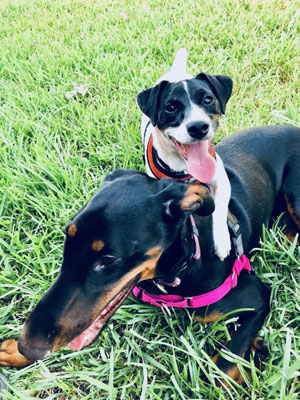 Although Estée Lauder is a beautiful, happy girl now, she had a challenging start in life. She, her mom, and two siblings were found outside of Houston emaciated and starving. After finding their way to Austin Pets Alive, the three puppies were placed in foster care with friends Sean, Renee, and McKenna Lowery. After weeks of tender loving care, Estée was healthy and ready to be placed for adoption. Catherine had been watching the Lowerys via Facebook and following the family's journey to good health. She was impressed with how well Estée's foster sister, six-year-old McKenna, was doing with the puppies and was feeling a heart tug. After Estée was returned from her first adoption, Catherine realized she was meant to be her dog and adopted Estée forever.
Unknown to the Lowerys at the time of the first adoption, Estée was severely sight impaired. According to ophthalmologists at Texas A&M's Veterinary Medical Teaching Hospital, Estée suffered an infection that damaged her retina, probably around the time of birth. Her sight impairment made adjustment to new environments more challenging for Estée. Catherine and her husband Keith felt like they needed help with Estée, and eventually were referred to Aubrey Kotlarich, a RRI volunteer. Aubrey helped the Coles socialize Estée in many different ways, including introducing Estée to her own dogs. The ophthalmologist, Aubrey, and the Coles all thought a friend for Estée might give her more confidence. The first introduction with Aubrey's large, black (very sweet and gentle) dog didn't go well. Estée growled and was clearly uncomfortable.
On a follow-up visit to her ophthalmologist, the Dr. suspected Estée's eyesight may have improved. She decided to do a "cotton ball" test. Because a cotton ball has no sound or smell, it really tests if she can see it. When dropped, Estée actually tracked the small, white cotton ball with her eyes as it fell to the floor! She could see it!
Aubrey just so happened to be very good friends with Caroline Youngblood, another RRI volunteer. And, Caroline just so happened to have a little rescue dog named Jessie. Jessie is an 8 month old tri smooth perfect looking JRT. She is 100 percent white behind the head. White… very white. Discussions and conversations were had and a meeting was planned. Jessie was brought to Estée's home. With the Coles, Caroline, and Aubrey right there, the girls got acquainted. Pretty soon Jessie was trotting all over the yard snooping and sniffing. Right behind her was Estée. To Catherine's delight Estée was following Jessie into areas of the yard that she had never been comfortable going to before. Where Jessie went Estée went.
Jessie is the perfect companion for Estée. They are the same age and have the same activity level. Estée is happier and more confident. And Jessie has the one thing that Estée can see… a bright white coat. The Coles have happily adopted Jessie Jane forever. She is Estée's little "cotton ball!"
Catherine Cole, Ph.D.